Saturday, October 25, 2008
HALLOWEEN @ VFW SIOUX FALLS
The best party on Halloween night will be at the Sioux Falls VFW on South Minnesota Avenue. We are stoked to be on the bill with Solution, Burlap the Wolf King and the Smoke & Mirrors Band, we all have hooks for hands, and Lunar Funk Theory. Costume party and if you are so inclined a costume contest as well. Ten bucks gets you in for a full night of live local music! Music starts at 7pm. We hope to see you there!
SBJ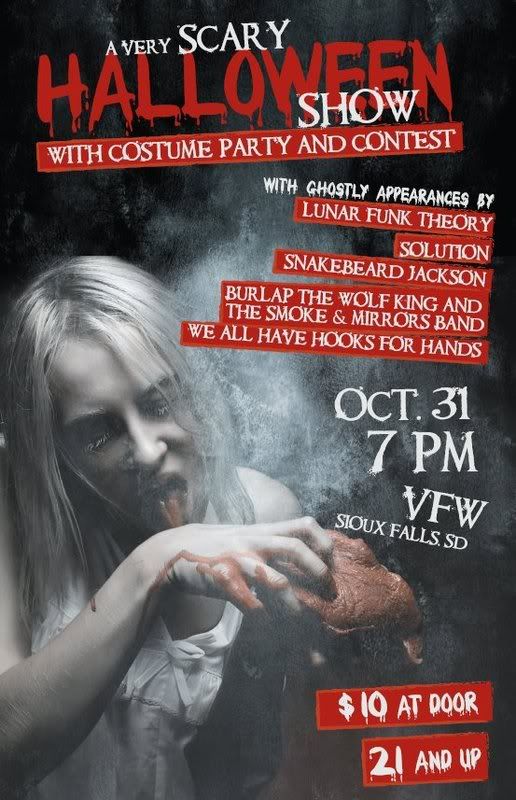 Friday, August 22, 2008
Last Call
Performances are over. Last call. House lights on, stage lights off. The PA is packed and waiting for the 27 hour drive home just like the rest of us. Somehow I am in the woods with no running water, a make-shift shitter, and I still have internet. Technology is amazing.

Sorry for the delay in posts to those paying close attention. We were down in the hills of Petrolia, CA with no wireless connections.

Is this the grand finale putting the last couple of weeks into perspective for a band of brothers and musicians? Any big discoveries? I don't know. It was only a few weeks.
I don't know that we have all experienced big life changes, again it was only a couple of weeks. However, I can't lead you to believe that in this short time we haven't changed a little... a new appreciation for nature, the value of a dollar when you only have three, or maybe the realization that our art makes it very easy to meet new people and see the best in them...to name a few.
This has been a journey however long or short. I'm sure "a couple of weeks" has felt very long at times to the band and to our loved ones at home. You made this tour happen along with us. Thank you for your support.

Our music is tighter, our bonds are tighter, and we now share the same experiences of Snakebeard's first tour to talk about when we're too old for hauling speakers.

We can all agree this has been a learning experience. Not just in tour costs, booking, lodging, food and supplies. Despite a couple minor setbacks, we have managed to have a great time. I heard a few times before leaving that we will come back loving or hating each other. We will be back with as much love and respect for one another since day one. I hope to do this again.

The shows have also taught us something. We have a dedicated group of listeners at home. A fan base if you will allow. Here we had nothing, and every show came with attendance concerns that usually started around 8 o'clock and lasted until about 9:30. But each night we saw a similar pattern of little dancing and attention for about 4 or 5 songs. Then we would see a change. More dancing, more applause and more interest in the band. I have learned that our music touches more than our hometown crowd. I am grateful.

I am grateful for the people who have helped along the way. Many of them friends of band members and even one couple who took us in with no idea who we are. All they knew is we rocked their socks off. Thank you Shiz and Erin. Good luck with your new family. Thanks to the promoter in Bozeman for the place to crash. Maybe we can come back and play for a croud larger than staff and the one guy Marshall. It was fun either way. Thank you Ian and Evelyn, Molly and Ben, Broch, Brett and Shea, Jaymar, and the Petrolia Community Center...some of us slept there. Thanks to John at The Summit for giving us the show we never had.

We will have stories to tell when we come home that I can't seem to convey in type so I will save them. We have hundreds of photos and hours of video.

We have a long drive ahead and we have work to do when we get home. We need to put up the PA and get those stage lights on and house lights off...Oh and I'm gonna want a beer. We have a homecoming show for you all.


SBJ/Joey

Wednesday, August 13, 2008
Oregon, Mountains, Kush
Ahhhhh, day 9. After over a week on tour I'm finally washing cloths! There is kind of a smell that accrues over the course of a week of playing music in the same couple shirts. Especially when you wear both in one night.......... I'm just glad my friends were not here to catch a whiff, or it might have shattered illusions of the ever wonderfull smelling mcfee.

So how about shows. We played in Portland on monday night, and dispite my nearly non existant voice(I've been on the verge of losing it all tour now) we got a great response from the Orgonians. What has often worked to bring a couple new audience members around is the misfits covers that 138 has been pulling out on occasion. The highlight was comming back to Ians and Evelyns pad and taking pictures in Eves photo booth....we got some good ones. I have been dubed the tour party animal, but had to call it early that night and catch up on some sleep. Jr. took my place and stayed up till 6. Needless to say he got some really good pictures in the booth.

Reick, Jewell, and myself, drove to Bend the following day for a radio station interview/performance. I was a little nervous, but we did well. The phones rang afterwords so I have high hopes for our show this evening at a venue called the Summit. Hope the floor in Portland was nice guys, cause my freind Moll has given us her whole pad to ourselves and is staying with her dude. Man the queen size bed was comfey. I dont know... mabey I slept a little too well. Tough being on the road man. But seriously, thanks too all the folks that have put us up along the way. We had planned on camping, but weather hasn't allowed much of the trip, and we are great full to all, especially those with the Kush.

Peace to our homies, Sean/SBJ

Monday, August 11, 2008
Camping on the Columbia
In comparison to Jesse's poetic entries, I have little to report, and not nearly in his sense of prose. The bulk of our Sunday consisted of driving. Nine hours, give or take. The conversations of the road hold little amusement to any but those involved. If you haven't experienced it, ask one of us, or someone who has been in a similar situation, and you will soon see my meaning (i.e. fart jokes seem A LOT funnier after six hours in a car).
I digress.
We, as you, the Constant Reader, knows, have lost Jesse. His absence has made everyone stop at one point, sure that we have forgotten someone. We wish him safe travels and reluctantly let him return to work. The culmination of his tour experience is left behind.
So, down a percussionist, Sunday night we pulled into a combination rest stop and campground. A friendly and helpful staff set us up next to the Columbia River on the Oregon/Washington border. We quickly set up camp as the sun went down and barely beat the darkness. The timing was great, a little nerve-racking, but we survived. A camp fire, some pasta, and a couple beers saw Snakebeard through the evening.
Morning broke earlier than some would like, but home-cooked breakfast and a little outdoor jam works wonders. Perchance there is new music involved.
Again, I digress.
At present, we are standing in Portland with some folks from back home. It is always good to see those you haven't in many years. If it weren't for a lack of family and pets, it feels a lot like home.
Again with the digression.
Tonight we will roll over to the Famous Kenton Club and see what Oregon thinks. To drop a cliche: Only time will tell.
One of us will surely let you know.
Yours truly,
SBJ/Trav
Missoula
Missoula is a great town. A beautiful river, incredible mountains, great restaurants, and good people. Matt, Josh, and I were the first ones to get there, the rest of the guys stayed up north at the wedding party for a few more hours. The three of us made a classy lunch on the downtown sidewalk after checking out the venue, then walked down to the river. Its called the Clark Fork, and it eventually dumps into the Columbia River. Crystal clear water, giant crayfish, and an assortment of colorful rocks gave us several hours of enjoyment. Trout took over my brain and I ventured downtown in search of a fishing pole, later giving up and rejoining Matt and Josh at the river. When I got back they were both swimming in the cold mountain water, rinsing off some of the tour grunge. None of us had showered for several days, so it was critical that we remove some of the stink. Matt looked like a little kid digging around in the rocks, finding ones that he thought were interesting. He amassed quite a collection and had several pocket fulls when we finally left the water to meet up with the rest of the band. I can't remember how many times he said, "Hey you guys, check out this one!" It was a good day at the river.

Once everyone showed up and we packed all our gear in, we decided to go out for sushi. I'll be honest with you, I had never had sushi before, but by the time we reached the restaurant, Sean had me convinced it would be an epic, life-changing experience. To quote him, "I would give up all my vices before giving up sushi." After eating a bunch of salmon and yellow tail, I wouldn't go quite as far as him, but it was excellent. We met a nice guy that was eating with his family at the sushi bar. He bought me some sake and we challenged him to a game of "Pick the Roadie," where we asked him which of the seven of us he thought was the roadie. His first choice was Josh, which we thought was pretty funny, but then he quickly changed his mind and picked Jewell, noting that the tatoos were a dead giveaway. He said he'd come to the show later and we bid him farewell, heading back to the bar to soundcheck.

We had a lot more people at this show than in Bozeman, and it was a good, fun, dancing crowd. I think we played a pretty good show, throwing some 138 misfits covers into the mix, and bringing back Dark Hollow with a dedication to Jerry Garcia. We hadn't played that song in quite awhile, and it was pleasant to see it go over well.

As the show was drawing to a close, we still didn't have a place in Missoula to stay. Its an interesting life to be going from town to town with no idea where you will sleep or what you will do when the show is over. It can be a little intimidating, but once you accept the reality that it doesn't matter where you sleep, its exciting. I guess its a matter of how you approach the unknown. Sean got on the mic and politely enquired whether anyone in attendance would be willing to put up a band for the night. Two nice ladies and a very nice guy offered to let us crash at their place, and we all went there after the show. Many thanks to these helpful and kind folks. Some of us caught up on showers and some of us caught up on beer, but eventually everyone went to sleep.

In the morning, we wiped the sleep from our eyes and collected all our stuff. This was the end of the road for me, my last day with the tour. Reality and work called me back to the Dakotas, and I'm more than sad to have left. Those guys are probably somewhere in Oregon right now, and I'm in North Dakota. I wish I could have kept going. Perhaps next time. This has been an incredible experience, and I know the rest of the crew is still living it. Keep rockin, guys. The unknown is standing right in front of you and I'm jealous. I miss it already.

SBJ/Jesse

Saturday, August 09, 2008
Bozeman to Missoula
We left Spearfish with weary heads and wagon trained across the arid sagebrush country of Wyoming, entering Montana from the south. An ominous storm loomed over the city of Bozeman as we approached. Foreshadowing, perhaps? We found our way through town to the Fillin Station where we were billed to play. The stage was cool, covered in license plates and band stickers. It was more of a roadhouse than a bar. The bartender and Grant, the guy who booked us, were friendly. No one else was in the bar. We hung out in the back and told stories while Jewell played us a few songs on guitar. I told a story over some of Tim's blues licks and we jokingly decided to debut it later.

Show time neared and still no one entered the bar. An outdoor music event was scheduled to take place downtown, but was cancelled because of the storm. We were supposed to be the afterparty. Things were not looking good for us. The weather struck again.

We took the stage and still no one was there. We started playing and the band that scheduled to play after us showed up and watched us, along with the bartender and the dude eating peanuts. We played for awhile for the other band and then they played some songs for us. They were very impressive and extremely tight. They're called the Chris Koza band, great guys. We hung out with them for awhile and since no one came to the show, we called it a night and headed downtown for a few beers.

As we were walking down main street, bad vibes descended. A fight broke out in front of us and a few guys went down hard. It was one of those spectacles that you don't want to see, but can't ignore. We all felt pretty sick after witnessing that and decided to get a beer and some pizza. I've never seen such drunkenness in one place. I thought people got wasted in Vermillion, but nothing like this has ever befallen my not so innocent eyes. This town is rough and tough. We're definitely in the West.

Seemingly everyone we talked to in Bozeman was hilarious in some way. Some were belligerent, some were just cool and funny. It will be fun to play here sometime when the weather agrees and we can get a crowd.

We headed out and drove west to Missoula, then north into some wild country. We came to a ranch near a lake in the mountains. Matt and Emily (not Matt and Natalie, though every time someone congratulated the couple, we couldn't help thinking they said that) were getting married, friends of Sean's, and we were playing their wedding. It was more of a festival than a wedding, which made for a pretty incredible time considering the scenery. Everyone was friendly and the wedding was beautiful. We took the stage underneath a moon and stars that looked so close they could have been painted there. We played and the whole crowd danced in the moonlight, it was beautiful. After our show we hung out and watched/participated in the drum circle, with Josh making his percussion debut and drawing rave reviews.

The next day we woke up, ate some breakfast and took down our tents before yet another thunderstorm struck. All in all, it was a great experience out in the woods, wading through streams looking for trout with Jewell, and getting to see Sean walk around in nothing but a way too small towel after bathing in the creek, striking a mountain man pose.

We're all excited for tonight in Missoula. I'm at the Top Hat right now and this place rules. This town rules. This is going to be a fun night.

SBJ/Jesse

Wednesday, August 06, 2008
And we're off!
Tour has officially began. After the wonderfully exciting drive across the great plains of SD we arrived in Spearfish with plenty of time to chill. Joey's good friend, Shizzle, welcomed us into his house where we got the shake off the drive and enjoy a few of those fine cold beverages we enjoy so much on his sweet patio downtown in Spearfish. As the evening progressed we had the pleasure of watching a killer thunderstorm roll in over the Black Hills. It was really beautiful, the squall line was perfectly defined and multi layered, backlit by constant lightning and the evening sun which lit the front edge of the storm. It progressed into a full on hail storm. fortunately there was no damage to vehicles but I'm sure more than one biker took a wicked shot to the face while going 75 down the interstate, my condolences.

The storm mostly passed before we played at the B&B. I had never been out here with the band (this is Josh by the way) but I see why the guys come back, cool venue and a great crowd. We blew a fuse during Dead Flowers but we played on finishing the song in an acoustic sing-along with everyone in the bar, it was beautiful really. After the power came back we finished the show and kept the people dancing til the wee hours.
Jami played with us last night for the last time for a few months. She is now heading to Nashville for four months. Good luck Jami! For anyone who needs a Jami fix we will have the cd's with us at all the Snakebeard shows.

Thats all for now, we have another night at the B&B and then we head to MT. I'm going to do my best to keep everyone posted on how our tour is progressing.

Thursday, July 10, 2008
TOUR TOUR TOUR!!!!!
Check out the just announced dates on our tour out the grand Pacific! We also have many new local SoDak dates added. Keep checking our MySpace and our website (www.snakebeardjackson.com) for many more updates to come soon as well as reports from the road this August.

Snakebeard Jackson will play our second Sioux Falls JazzFest on Saturday, July 19th at 6PM on the second stage. Jonny Lang headlines the night at 10PM on the main stage. As always, JazzFest is free!


ANNOUNCED TOUR DATES:

Saturday, July 12
Aberdeen, SD
Great American Pig Out 11AM and
Wild Oats Bar 10PM

Friday, July 18
Wagner, SD
Private Engagement

Saturday, July 19
Sioux Falls, SD
JazzFest 2008 6PM
2nd Stage @ Yankton Trail Park

Sunday, July 20
Sioux Falls, SD
Private Engagement

Friday, July 25
Sioux Falls, SD
Wiley's Pub 9PM
Jami Lynn and the Aquila Band EP Release

Tuesday, August 5
Spearfish, SD
B & B's Back Porch 8PM
STURGIS RALLY 2008

Wednesday, August 6
Spearfish, SD
B & B's Back Porch 3PM
STURGIS RALLY 2008

Thursday, August 7
Bozeman, MT
The Filling Station 9PM

Friday, August 8
Missoula, MT
Private Engagement

Tuesday, August 11
Portland, OR
Kenton Club 9PM

Friday, September 5
Sioux Falls, SD
8th & RR Center Block Party 7PM

Friday, September 12
Deadwood, SD
Deadwood Jam 2008 6PM

Saturday, September 13
Yankton, SD
Yankton Ribfest 2008
Downtown Yankton 6PM

Saturday, September 20
Sioux Falls, SD
Taste of South Dakota 7PM
DTSF @ Falls Park

Saturday, September 27
Watertown, SD
The Guest House 10PM

OCTOBER/NOVEMBER 2008
IN STUDIO RECORDING SECOND LP
PACHYDERM STUDIOS
CANNON FALLS, MN

Friday, July 04, 2008
Saturday in the Park article in Sioux City Journal
Snakebeard Jackson is proud to open up Saturday in the Park festival in Sioux City at noon on Saturday, July 5th. This is a great midwest music tradition and we invite you all down I-29 to join us for it. The Sioux City Journal printed the following article linked
HERE
about Snakebeard's slot at Saturday in the Park...full text below:
Snakebeard Jackson: S.D. "it" band ready to reach nation
Ask the six members of Snakebeard Jackson what they do for a living and you may think you're hearing the start of a joke.

There's an insurance salesman, an organic farmer, a painter, a restaurant manager, a wildlife biologist and a music history student. But if things keep going as they have been for this Americana band, these full-time jobs may soon be a thing of the past.

In other words, these part-time musicians are no joke.

"We're willing to work hard at this," explained Snakebeard singer/guitarist Sean McFarland. "We play for fun more than anything, so it's not too important, but one day when we're making a living doing this, it will all have been worth it."

Not that things are bad for Snakebeard Jackson. In fact, the band is doing very well. The reality is it's hard work for a band from Sioux Falls, S.D., to branch out and catch the ears of booking agents, A&R reps and label executives. To make up for a lack of connections, the men of Snakebeard Jackson are playing as many gigs as they can in an attempt to land new fans across these lands.

"We're just getting starting, I'm positive of that," McFarland said. "If we can just get in front of people and play like we do, we're sure to make it to the next level soon."

For example, a few hours after Snakebeard kicks of this year's Saturday in the Park Festival at noon, the musicians will pack their gear and themselves into a van and drive a couple of hours into South Dakota to perform an evening gig.

More ears, more fans, the band feels. They might be right.

Snakebeard came together rather organically three years ago when McFarland and guitarist Joey Fokken started jamming together regularly in a garage. Soon an upright bass player (Travis Jamison) joined in, then a mandolin player (Josh Rieck), then a drummer (Matt McFarland). Before they knew it, a band was formed, rounded out by the washboard rubbing and conga shaking of Jesse Wilkens.

With an eclectic grouping of instruments, the men of Snakebeard were not quite such what kind of sound they'd produce. At first, McFarland said things leaned toward the "mellow and folky" side. That was until Matt McFarland (they are cousins) could no longer be contained on the drums.

"We told him we didn't want him to do too much, kind of keep it quite back there," McFarland said with a laugh. "He'd played with punk and metal bands, so trying to hold him back wasn't working."

Instead, the group embraced the driving drums, as they did each other's influences. The end result is a fusion of rock, bluegrass, country and blues -- each style representative of a member's favorite genre -- that makes Snakebeard Jackson unique.

"Touching on all of these elements wasn't something we intended. Everything just naturally led up to it."

A sound was found. The next thing to do was hit the studio.

With an EP already under their belt, the members of Snakebeard spent a portion of 2007 at Minnesota's Pachyderm Studios, the same place where artists such as P.J. Harvey, Soul Asylum, They Might Be Giants and Indigenous had laid down tracks. They left with their first full-length album, "The Burl," which was independently released in October. The Sioux Falls (S.D.) Argus Leader named it the Best Sioux Falls Album of the Year.

"We've got four of the members in the band who are strong songwriters. It's becoming pretty evident that we're all bringing quality to the table," McFarland said, adding the group is now working on a new record for a winter release.

The strength of "The Burl" lead Snakebeard to increase it's fan base and land more shows. Openings spots for the likes of Shooter Jennings, Joan Jett and the Blackhearts, Tesla and Kansas followed. The group's live performance was taped for South Dakota Public Television's "No Cover No Minimum" and gigs at summer festivals (including on during the Sturgis Motorcycle Rally) were booked.

According to McFarland, their brand of Americana rock may be coming up at the right time. It actually might be hip, he figured.

"We've been joking around that bluegrass is like the new punk rock. All the hipster kids that wannabee on the edge, smoke cigarettes and wear black are coming to our shows. There's an energy when we play. I'm as surprised as anyone else that there's a punk sort of energy in bluegrass."

Snakebeard Jackson

Who: Noon

What: Rock/bluegrass/country fusion

SITP trivia: Snakebeard Jackson is no stranger to Sioux City stages. In fact, when performing in this Iowa town the members of Snakebeard frequently share a stage with local rockers Mat D. and the Profane Saints. Mat D., you may remember, opened up the 17th annual SITP festival last year.
Monday, April 28, 2008
Busy, Busy, Busy...
Admittedly, this blog doesn't get the attention it should in the form of updates from us. But here is one.
We played last Saturday night in Vermillion for the
USD
Program Council's spring (was suppose to be outdoors but April snow diverted us inside) concert. Thanks to
Post Position
and
Solution
for playing the show with us and thanks to
USD
for the invite. Some pics from the show below.
This coming weekend we have our first show in Aberdeen at
Wild Oats
Friday night at 9pm, with
Jami Lynn and the Aquila Band
opening up. Then on Saturday night we return to Sioux Falls for a show at the
Shrine Mosque
with
Solution
. A rockin' good Cinco de Mayo party with
Snakebeard
and
Solution
....guaranteed to be a great time! $10 in advance, $13 at the door.
See you soon...
SBJ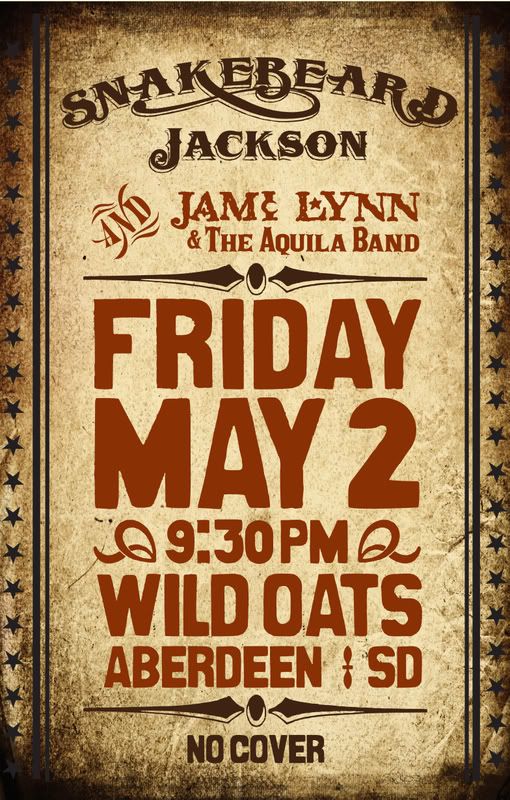 Photobucket" border="0">
Friday, February 29, 2008
New shows Announced for Spring/Summer '08!!!
We are almost back at 100% vitality and have posted many new dates for Spring/Summer 2008 on our MySpace and our website. Check them out below....more to come soon...
SBJ
| | | |
| --- | --- | --- |
| | Ft. Randall Casino | Flandreau, South Dakota |
| | Old Myers Pub | Huron, South Dakota |
| | Maya Jane's | Vermilion, South Dakota |
| | The Chesterfield | Sioux City, Iowa |
| | B & B's Backporch | Spearfish, South Dakota |
| | Dubliner | Rapid City, South Dakota |
| | Safari Lounge | Brookings, South Dakota |
| | Shrine Mosque with Solution | Sioux Falls, South Dakota |
| | Bella Sol @ Harmony Park | Harmony Park, Minnesota |
| | RibFest 2008 | Sioux Falls, South Dakota |
| | Newton Hills Hoedown | Canton, South Dakota |
| | B & B's Backporch ***STURGIS RALLY '08 | Spearfish, South Dakota |
| | B & B's Backporch ***STURGIS RALLY '08 | Spearfish, South Dakota |
| | Taste of South Dakota | Sioux Falls, South Dakota |
Sunday, February 03, 2008
Spearfish, Verm cancelled, RED EYE THIS FRI!!
Our lead guitar player, Joey Fokken, broke his wrist yesterday in an unfortunate snowboarding situation, and we must cancel a couple of shows. We will still be playing this Friday night in Sioux Falls at the Red Eye with Hooks for Hands and Coltcocker ($5 cover, 9PM...flyer below). Look for some electric guitar assistance from some local friends who can throw down with the best of em! We are also keeping the show at Nutty's North opening for Trampled by Turtles on Feb 16th with some relief guitar players as well. We will reschedule the Spearfish and Vermillion dates as soon as we can and let you know.
For now, hope to see you in Sioux Falls the next couple of weekends and be careful on the slopes!!
Snakebeard Jackson
Thursday, November 15, 2007
Spearfish, Vermillion, SBJ on TV
One last call for this weekend in Spearfish, SD. We will do a two-nighter at B&B's Back Porch THIS FRIDAY AND SATURDAY NIGHTS! A great venue that we last saw in April, we are happy to be goin' back out West! Both shows start around 9pm MT. Did you know that "The Burl" makes a great stocking stuffer? Our recently released LP is available for sale at all of our shows.
Also, we are excited to announce that we will be performing on South Dakota Public Broadcasting's program
"No Cover, No Minimum"
on Friday, November 30th. The show will air on December 10th on SDPB, exact time TBA. Tickets are free and you can call 800-456-0766, or stop by the SDPB office in Vermillion.
SDPB asks that the audience be there at 7:30pm. Taping will begin at 8pm. The show will also be webcast live at
SDPB.org
. So if you can't make it to V-town, check it out online.
The following night on Saturday, December 1st we will make a long awaited return to downtown Vermillion for a show at Maya Jayne's at 9pm. $3 gets you in, as well as a free shot!
See you soon....
Snakebeard Jackson
Sunday, October 28, 2007
Second Chance Rescue benefit show THIS FRI NIGHT!
Come on down to the
El Riad Shrine
on Phillips Ave in Downtown Sioux Falls this Friday night, November 2 @ 9PM. $10 gets you in and helps out
Second Chance Rescue
, which is the no-kill animal shelter in Sioux Falls. Enjoy a night of music with
Too Drunk To Fish
and
Snakebeard Jackson
and help out a great cause!
Also, a BIG THANKS to everyone who rocked their hearts out in Huron and Brookings the last two Friday nights, as well as to the
Quaker City Night Hawks
and
Electric Nectar
for helping us out. Spearfish, we're headed your way in a couple weeks! Our new CD The Burl will be available for sale at all of our shows, however if you can't make it to one you can download The Burl and our EP on our
MySpace site
and our
website
.
Speaking of the website, be on the lookout for our upcoming redesigned website at
www.snakebeardjackson.com
very soon!!!
See you soon...
SBJ
Wednesday, October 17, 2007
The Burl and our EP available for download NOW!!
We have begun selling our tunes online! Our new LP The Burl and our EP from last year are both online available for immediate download! The Burl is $12, the EP is $5, or you can pick and choose your tunes for $0.99 each. If you can't make it to a show here is your opportunity to get your hands on some Snakebeard Jackson! All songs also have 30 second preview clips. Check our our
website
or our
MySpace site
now!!! Or just scroll down on this here blog post!
SBJ
Thursday, October 04, 2007
The Burl reviewed by Argus Leader
We are pumped to release our new CD this weekend in Sioux Falls and Yankton. Friday night at the VFW in Sioux Falls we will officially release our first LP "The Burl." This show is 21+ (we are playing an all ages show on Friday, Nov 2 at the El Riad Shrine in Downtown Sioux Falls). Our friends the Quaker City Night Hawks will be opening the show at 9:30pm. $5 cover at the door, or $15 cover and CD. See you there!

Also the first review of "The Burl" is in from Robert Morast of the Sioux Falls Argus Leader. Link to the article and excerpts below:

http://www.argusleader.com/apps/pbcs.dll/article?AID=/20071004/ENT05/710040340/-1/ENTERTAINMENT05

"With "The Burl," Snakebeard shows another side that paints a darker life's perspective with dynamic songs suggesting this band has transcended novelty status to become a fully realized instrument of art."

"Snakebeard's always excelled at the upbeat drinking songs, enough to make it one of Sioux Falls' favorite live acts. But with "The Burl," Snakebeard shows a depth and development that sounds as good as anything else this year."
Wednesday, September 19, 2007
THE BURL buzz on the Link
The Sioux Falls
Argus Leader's LINK
entertainment section has on online story about the upcoming release of our first LP...THE BURL!
Click here for the full article.
...excerpt below.
"It's kind of amazing that Snakebeard Jackson has become one of the city's premier bands without releasing anything more than a homegrown EP in two years.
Yet, with that one brief home produced disc, Snakebeard has become one of Sioux Falls' "it" bands and sparked a minor trend with its rootsy Americana folk songs laced with the passion and intensity of rock 'n' roll."


Check out the full list of our CD RELEASE TOUR on
our website right now
!!
Peace,
SBJ
Wednesday, September 12, 2007
Fresh Horses Saloon Pics...
Some pics below from our windy outdoor gig at the Fresh Horses Saloon in Harrisburg, SD. Good times and great food under the stars. Thanks to all who braved the first chilly night of the fall!




Thursday, September 06, 2007
Snakebeard Jackson @ Fresh Horses Saloon
We return to Harrisburg at the Fresh Horses Saloon
THIS SAT NIGHT @ 9PM!!!
Our first full band, rockin' late night show in a long time...and we're ready to throw down. A couple new pics below from our Folk Fest gig in early August (thanks Tammy!!)
See you for another South Dakota Saturday Night with Snakebeard Jackson!
SBJ
p.s.
The Burl is coming....
Wednesday, August 29, 2007
Pics From CrowStock
We hope it doesn't take another 50 years for the next CrowStock. Check out some pics below....good times all around!



Friday, August 10, 2007
SnakeBuzz on Morast's Blog
The Argus Leader's
Robert Morast blogged
about our new songs on
MySpace
.
Linked here
, excerpt below.....
"The local folk rock act Snakebeard Jackson has posted a trio of new songs on its MySpace page. The sounds come from the band's forthcoming album which, according to a mass email from the Snakebeard crew, will have a release date "soon."
In the meantime sate your old-timey/rock cravings with these songs come with titles straddling the world of folk aesthetic ("Tin Shack Mansion") and rock idolatry ("Buzzin")."